Insignia Customizable Braces in Beverly Hills, CA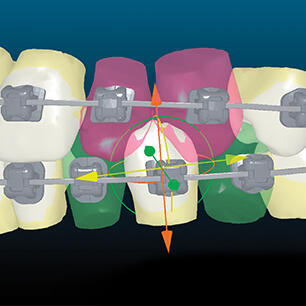 Are you unsure what to expect from your orthodontic treatment? Have you put off improving your smile because you're worried about discomfort and inconvenience? Here at Prero Orthodontics, our team strives to make the process simple and smooth for patients, and this is never simpler than with the state-of-the-art power of Insignia Customizable Braces. Your experience will be personalized and hassle-free!
Please contact our Beverly Hills, CA practice today if you have any questions about our services, or if you're ready to schedule an orthodontic consultation with Dr. Dovi Prero. New patients from Culver City, West Hollywood, Santa Monica, and all over central Los Angeles are welcomed as well.
The Insignia Process
With Insignia, patients don't need to worry about a one-size-fits-all solution – this revolutionary orthodontic system relies on both digital modeling technology and your own personal anatomy to craft the perfect brackets and wires. Once Dr. Prero determines that Insignia Customizable Braces are the right choice for you, the first step is capturing detailed impressions and converting them into a 3D image that Insignia's revolutionary software uses to determine possible outcomes for treatment and create a model to show the results allowing you to preview your future smile.
Once you and Dr. Prero are satisfied with this information, your new, precisely customized braces are manufactured and attached to the teeth so they can begin their transformation. Aesthetic options are available at our Beverly Hills practice for patients who want to maintain a naturally beautiful look throughout their treatment.
Benefits of Insignia Customizable Braces
Fully Customized Treatment – No one else has a smile just like yours, and Insignia takes this to heart. Instead of generic braces that are designed to be one-size-fits-all solutions, your new brackets and wires are 100% customized to fit your teeth and no one else's for optimal results. This makes your treatment that much quicker and more effective.
Increased Comfort and Convenience – With Insignia, busy patients can expect their check-ups with Dr. Prero to be shorter and less frequent allowing them to get back to what matters most.
See The End Before Beginning – Many patients are nervous about undergoing orthodontic care because they can't know how their smile will actually look until they've made the full commitment. The state-of-the-art 3D software used with Insignia Customizable Braces solves this problem by calculating facial symmetry and features in accordance with your treatment plan and generating an image of the final result. You can feel confident about the gorgeous results you're working towards!
Comprehensive Coverage – Insignia treatment greatly benefits most patients, whether they're struggling with mild or severe orthodontic concerns.
You're In Good Hands – Orthodontists like Dr. Prero undergo additional training and certification to provide Insignia Customizable Braces, which means you look forward to quality patient care, exceptional skill, and results that are sure to exceed your expectations at our Beverly Hills practice.