Invisalign® Clear Braces in Beverly Hills, CA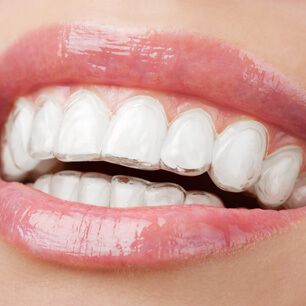 Achieving a straighter smile is a common goal for patients all over central Los Angeles, but the traditional method of wearing noticeable braces to achieve them can be too big of a hurdle. This is completely understandable – after you've worked hard to create a polished image, the last thing you need is a mouthful of metal that makes you feel like you're back in junior high school. At Prero Orthodontics in Beverly Hills, we pride ourselves on providing sophisticated, seamless orthodontic alternatives that create the beautiful results you're hoping for. With the help of Invisalign, you could be enjoying dramatic improvements in an exceptionally quick timeframe!
Contact our practice today to schedule an Invisalign consultation with Dr. Dovi Prero, or if you have any questions for us. We also serve the areas of Culver City, Santa Monica, West Hollywood, and beyond.
How does Invisalign work?
Unlike traditional braces, Invisalign doesn't rely on metal wires and silver brackets. Instead, your treatment consists of a series of clear, customized plastic aligners. Each one is designed to represent a slightly different stage of your smile as teeth are moved. By switching aligners every two weeks or so, smiles reach their ideal position at a gentle and gradual pace. Brief, routine check-ups with Dr. Prero are also needed so he can gauge your progress and ensure that everything is going smoothly. Invisalign is often a great treatment for patients suffering from overcrowded teeth, gapped teeth, crooked teeth, or an improper bite.
Invisalign treatment offers patients several valuable benefits, including:
When worn, Invisalign aligners are virtually invisible, allowing patients to maintain their natural-looking smile. If you have a big event that you'd like to look your very best for, you can even take out the aligner for a couple of hours with no ill effects.
Standard braces come with various attachments and parts leading to accumulating food particles, discoloration, and higher risks of decay. These problems don't exist with Invisalign because the aligners are easily removable, meaning that you maintain not only your oral hygiene routine, but your diet as well.
Invisalign aligners are customized for your unique smile and have smooth edges, making them much more comfortable than the sharp brackets and poking wires of traditional braces.
While traditional braces are typically worn for multiple years, Invisalign treatment is typically finished after 4-18 months!
Invisalign® Teen
Invisalign isn't just for adults! Our Beverly Hills practice offers Invisalign Teen, the perfect orthodontic option for the young adult in your life who needs to maintain their self-confidence. This treatment has all the features of the traditional Invisalign system while adding some helpful features. These include a Blue Dot Indicator that shows your teen when it's time to switch aligners and Eruption Tabs capable of accommodating growing second molars.
iTero Integration
To design the aligners needed for your Invisalign treatment, our team takes impressions of your unique smile. Instead of using conventional molds that are unpleasant for patients, Dr. Prero and his team use state-of-the-art iTero technology to capture digital impressions and transfer all the necessary information wirelessly. With the help of iTero, our team virtually eliminates the need for costly "retakes" and improves the turnaround time needed to receive your aligners from the Invisalign lab. You even see a simulated outcome of what your new and improved smile will look like!